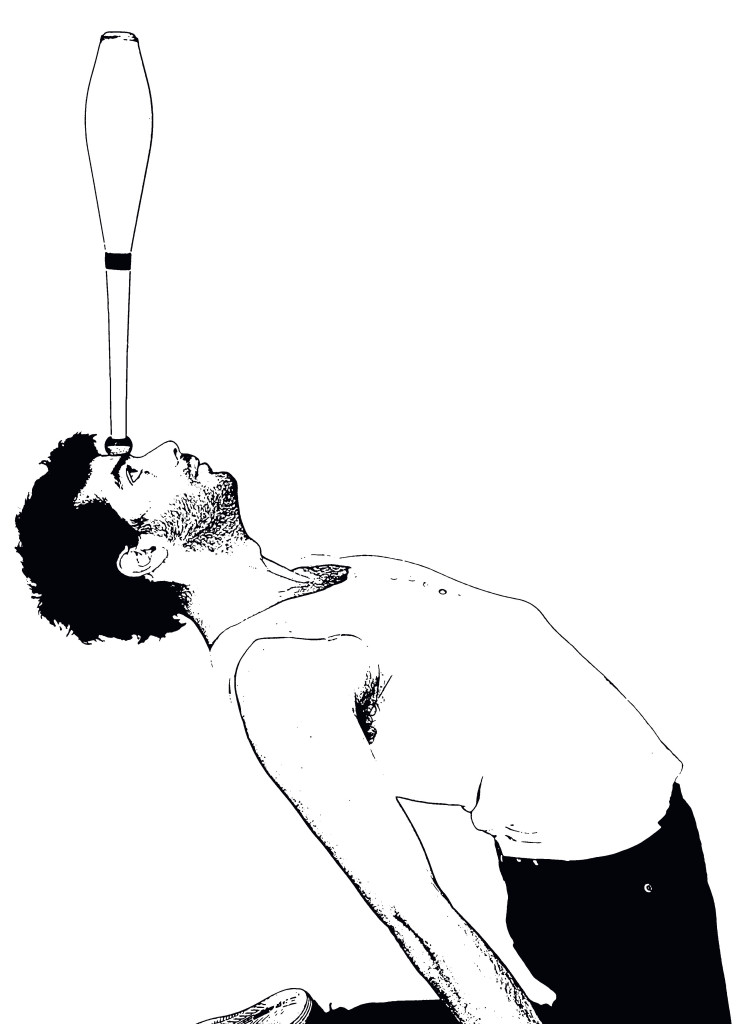 Get the Hat
Street show
30 minutes
more
A chaplinesque character is getting dressed in order to play a show for his audience. Just as he is about to start, he realises that his hat is stuck at a very high spot. He tries many different ways to get it. None work. Finally, his only option is to perform a spectacular act of funambulism while he hopes the volunteers don't let go of the rope he is walking on.

#Manifesto
Circus theatre
45 minutes
more
A humorous and a provocative art manifesto. It's a one-performer piece which fuses circus and theatre, where the skill of juggling serves the performance in the same way the acting does. The piece's protagonist transnational artist Heidi Blumenfeld crosses borders between genders and genres. Her brutal honesty and her cheekiness draw the public to react, which results in a steady complicity between the audience and the performer. A simplistic stage design, together with a virtuoso performance and an effective use of lights and sound, result in a piece which conveys a strong message yet easily tours. Available in English, German, Spanish, Italian, Portuguese and French.
#Manifesto is a project of EX-teater, theatre company. The piece director is Hristina Vasić Tomše; the performer, Andrej Tomše; the music composer, Slobodan Ivanović. The piece has been premiered in April 2017 at English Theatre Berlin and we are currently applying to theatre, circus and other festivals to perform it. For more information about EX-teater, you are kindly invited to follow
this
link.
Transnational artist Heidi Blumenfeld
Varieté act
7 minutes
more
Her name is Heidi Blumenfeld and she's a transnational artist. Her mission is to break boundaries between kitsch and high art, funny and serious, the masculine and the feminine. Highly stylized juggling meets a character who's not afraid to speak out. Heidi has the ability to get the complete attention of the public wherever she performs, giving audiences a visual treat as well as something to think about. Available in English, German, Spanish, Italian, Portuguese and French.